Lets get together for a good time!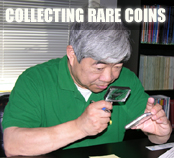 The Blue Grass Coin Club meets the third Monday of the month at our new location at the Embassy Suites at Lexington Green, 245 Lexington Green Circle at 6:30PM. Each meeting runs about 90 minutes to 2 hours which always flies by because we are having great fun. It's casual dress, friendly, laid back environment dedicated to the wonderful world of collecting coins. We start with a short business meeting which is often followed by a special program/speaker. Once the business is concluded, we get down to the fun part!
Sold!
We have a private auction that consists of 50 items with opening bids. The benefit of being a club member is you receive a list of the auction items before the meeting so you can get a leg up on any visitors who attend. The auction is fun for all numismatists, young and old!
To Join!
Joining the club is as simple as coming to the Embassy Suites at Lexington Green on the third Monday of each month at 6:30 PM. Dues are $10 a year and you receive the Newsletter and Auction lists by e-mail. Dues are $15 a year to receive the newsletter by regular mail. The newsletter contains articles written by one of the leading coin dealers in the country, Jeff Garrett owner of Mid-American Rare Coin Gallery. The club offers a great opportunity for one to grow in the knowledge of coin collecting.